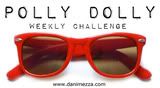 Polly Dolly Challenge for this week-
What would you wear to the races?




Once again, I've gone for the nude tones with soft pinks in the dress, and a bit of bling to sparkle it up on the shoes and clutch. I'm starting to love hats, and I'm looking forward to Spring so I can wear one like this to our local races. The champagne is a given!
If you'd like to play, head on over to Danimezza.