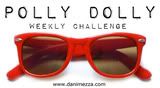 It's Thursday again.. and time for another Polly Dolly challenge! In honor of
Sex and The City 2
(which I'm seeing as part of a fundraiser-yay!) Dani has asked us to dress one of the girls from
Sex and the City
who's style reflects our own.
I had to stop and think a bit with this one. I'm not as preppy/Park Avenue as Charlotte. I'm not as conservative as Miranda, and I
definitely
don't dress as provocatively as Samantha! So, Carrie it is. I love when she takes a fashion risk, although my style more of when she was going through that boho/indie phase.
Anyhoo, here's my take on what Carrie would be wearing when she met up with the girls for coffee...
Carrie loves a bit of sparkle.

I

love a bit of sparkle, and I adore the jersey tank with beaded collar. Carrie pulls off wearing shorts and heels with aplomb, and I think the detail on the tan wedges are gorgeous. Throw on some aviators, pale pink gloss and the beautiful kingfisher necklace and she's ready to go.

Speaking of ready to go.. I have to think about what I'm going to wear tonight. Time to go rummage through my closet!
If you'd like to play, head on over to
Danimezza
!