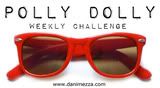 Is it sad that I've been hanging out for another challenge all week?
Anyway, the lovely Danielle at Danimezza has set this weeks theme as Gym Wear. Quite fitting actually, as I was telling her the other day about how I desperately needed to get back to the gym!
Although I normally stick to whites, greys and blacks, I do like to splash a bit of colour in. This time, I've gone for yellow. I love Capri pants, and stick to singlets or tanks when working out. I never leave home without my ipod and ipod armband, and I've discovered Gabriella Cilmi's new song 'On a Mission' is great to work out to. Hair ties are a necessity. I can't bear the thought of having my hair down while working out. And, of course, I have to throw in the Rexona and a nude lipgloss!
After taking Carter swimming today, I enrolled him in the gym's creche. It was hard, I didn't particularly want to have to do that, but with mum away so much I didn't really have a choice. He's booked in tomorrow while I do a Body Attack class... I know he'll be fine, it's more me that I'm worried about! I haven't done a class since I was 5 weeks pregnant with him!
8th April 2010