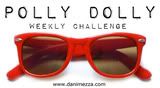 This weeks Polyvore Challenge from Danimezza is 'What would you wear to the Farmer's Market?'
I love our local Farmer's Market. It's held every fortnight, and the best part is that it's only a few kms away. I chose a cute light blue skirt, vintage tee and a crocheted vest to put over the top. The gladiator sandals and oversized sunnies funk it up a bit. I loved the crocheted bag, I thought it was super cute!
I always look for fruit that's in season, especially strawberries in the summertime. Nothing beats home grown strawberries. I always seem to come home with pumpkin, roma tomatoes and creamed honey. My only vice? Not being able to pass up this amazing popcorn that is both sweet and salty. Delish.

23 April 2010